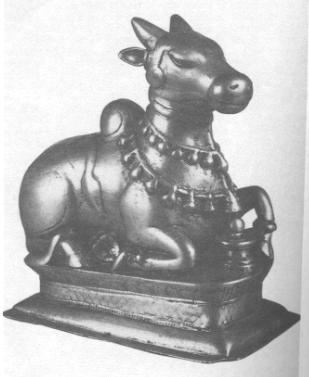 The milk-white bull of Shiva, and the god's vehicle. Nandi is the chief of his attendants and leader of the Ganas. An image of Nandi is placed before temples dedicated to Shiva.
The deeper aspect of Nandi/Nandhi the bull of Lord Shiva is: Nandi is the foremost disciple of Lord Shiva. When the positive forces, the devas and the negative forces, the asuras joined together on the rare occasion to churn the mountain to obtain the nectar of immortality they utilized Vasuki, the serpent as the rope. The devas pulled from one end and the asuras from the other. In the process of churning, Vasuki, the snake vomits poison. This poison (human karma) was so dangerous that none of the gods or deities or asuras wanted to have a part of. It was extremely sticky and coming into contact with this poison, i.e, human karma, would in an instant bring the entity into the realms of human suffering and ego. As everyone ran away, Lord Shiva comes to help. He is the only cosmic dimension who could counteract this deadly poison. He takes all the poison in his hand and drinks it. Nandi, his most ardent follower sees the poison spill over Lord Shiva's mouth. Nandi drinks up the spilt poison from below. Everyone is shocked and wonders what would happen to Nandi. Lord Shiva says, "Nandi has surrendered into me so completely that he has all my powers and my protection". As the foremost disciple of Lord Shiva, it is important to seek the blessings of Nandi before proceeding to worship Lord Shiva.
Disclaimer: EPrarthana.com is not responsible for accuracy of any information on this page. All data & images were collected from different sources like books, webpages and visitor comments/contributions. Feel free to indicate corrections or suggestions if any.