Deity Name : Saraswathi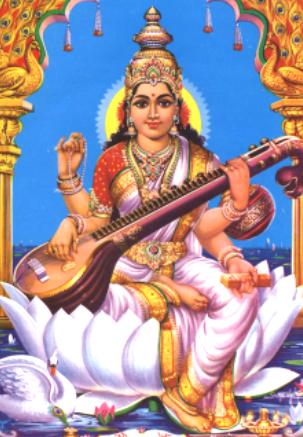 Goddess Saraswathi is the consort of Lord Brahma (Lord of Creation) and is the Goddess of wisdom and learning. She is considered as the personification of all knowledge - arts, sciences, crafts and all skills.

She is seen as a beautiful and elegant presence, pure white in colour, clad in a white sari, seated on a white lotus, representing purity and brilliance. She is depicted with four hands. In one hand she holds a book and in the other a rosary. With her other two hands, she is seen playing the veena. Her vahana is the swan and sometimes a peacock is shown accompanying her.

The swan is known for its exceptional characteristic of being capable of seperating out water from milk, indicating that we should possess discrimination to segregate the bad from the good.

Like Brahma, there are hardly any temples for her. The only temple in South India for Saraswathi is in Koothanoor near Mayiladudurai in Tamil Nadu.However, every year the Saraswathi Pooja (Navarathiri) is celebrated by all - schools, students, workers, craftsmen, businessmen offering their prayers for a successful and fruitful coming year.

Disclaimer: EPrarthana.com is not responsible for accuracy of any information on this page. All data & images were collected from different sources like books, webpages and visitor comments/contributions. Feel free to indicate corrections or suggestions if any.